SSC (Shelby Super Cars) Ultimate Aero TT — $654,000
a.       No, not that Shelby.  This Shelby is Jarod Shelby, no relation to Carroll Shelby.  Jarod got his start building replica supercars like a Fiero-based Ferrari 355.
b.       Let's see… Twin Turbocharged 6.4L V8 making 1,287 hp and you'll see every bit of it thanks to the horsepower gauge on the dash.
c.        Currently the fastest emissions legal production car with a top recorded speed of 256 mph and 0-60 in just 2.78 seconds
d.       You'll find some luxuries like Recaro leather seats (that will accommodate a driver up to 6'7"!) though you might want to throw a towel on those if you plan to pee your pants from all this power; also includes a great sound system and DVD/GPS/backup camera but here's the kicker- NO power steering or ABS to save you from fornicating with the side of a mountain or bottom of a ravine.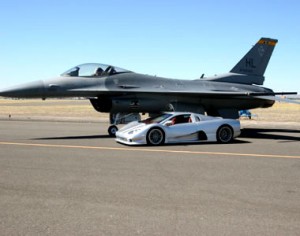 e.       When the brake is depressed, the rear wing actuates up to an additional 8 inches, as determined by the amount of brake pedal pressure.
f.         Horsepower history: the original Aero used featured a 1,062 hp supercharged (8psi) Chevy small block V8.  Boost was increased to 14psi in the first Ultimate Aero model for 1,147 hp before the TT versions came out.  The first TT version made 1,183 hp.
g.       Cool fact – spins tires at 190 mph in 6th gear
h.       Another cool fact – World's fastest Green supercar?  SSC stated production on the Ultimate Aero EV, an electrical version of the sports car, would begin Q4 of 2009.  While that hasn't yet occurred, if it is produced it would be the fastest electric as well as fastest CHARGING electric sports car: 10 minutes for a full recharge on a standard 110 volt outlet and will grant the driver a total of 200 miles