a.      The Swedish do more than produce just hot women and gummy fish!
b.       4.7L, V8 twin (Rotrex centrifugal) supercharger boosting 20psi, making 806 hp
c.        0-60 in 3.1 seconds and top speed of 250+ mph
d.       Carbon fiber and Kevlar semi-monocoque frame
e.       The CCXR is virtually the same car but can run on E85 and E100 biofuel; due to the higher octane rating of E85, the CCXR can produces 1,018 hp when running E85.  The extra hp is delivered by higher compression (8.8 versus 8.2:1), more spark advance, and more boost (23psi).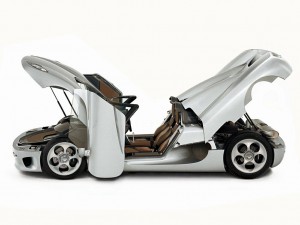 f.        Christian Koenigsegg dreamed of designing his first super car after watching a puppet movie Pinchcliffe Grand Prix, but finally lived the dream at age 20.  He financed his dream by "running a successful trading company" (yeah, at age 20…) but more likely because "his family had the resources"
g.       Cool fact – With the Stig behind the wheel, the CCX bounced from apex to apex before inserting its carbon nose into a tire wall on Top Gear.  While mostly unscathed, the Stig requested some modifications and the CCX can now be outfitted with an optional "Carbon rear wing (Top Gear special)" and some suspension tweaks; these mods later propelled the Stig to the fastest lap time in Top Gear history.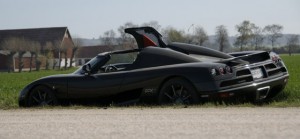 h.       Another cool fact – This isn't the only CCX to find its demise associated to the Top Gear tv show.  The only CCXR in existence at the time was being driven from one taping location to the next by an assumed responsible engineer, who may had forgotten he had just unbolted the rear venturi to fit a camera (bye bye downforce), when he decided to try showing off his race car driving skills.  Somewhere north of 120mph, a huge orange traffic cone poised itself in the middle of the road like a ten point buck, and the engineer pirouetted the car in and out of a ditch before it landed in a freshly fertilized field of poo.  What those Brits do for fun!!!