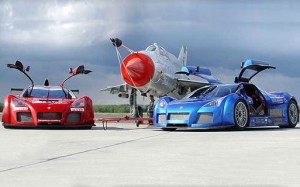 Gumpert Apollo – $400,000+ (though you'll have to throw down a few hundred more G's to get the most performance)
a.       Audi 4.2L V8 twin turbocharged engine, but three versions of tune.  The base version makes 641hp, the sport version is at 691hp, and the race version makes 789hp.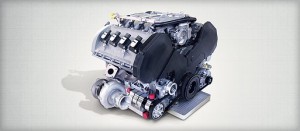 b.       Mated to a six-speed sequential dual-clutch gearbox operated by clutch pedal and a big vertical lever- no steering wheel paddles.   
c.       0-60 mph in 3.0 seconds and a top speed of 224mph
d.       Tubular chromoly frame with fiberglass or optional carbon fiber body panels; entire car (engine included) weighs just 2400-2600 pounds!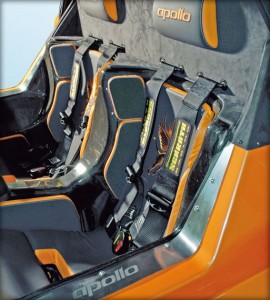 e.         While the Apollo's interior is custom made for your design (hot pink nubuck leather I'm assuming…) and is equipped with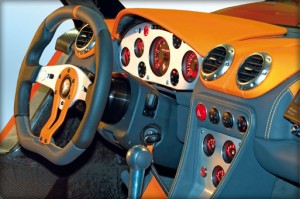 nav/sat, A/C, CD/DVD, and other techy acronyms, the cockpit (passenger compartment) uses a padded shell attached directly to the firewall (seat) for the driver.  If you're not in race car shape (5'9" and 140 pounds soaking wet), you'll have to admire it from the outside, along with the rest of us too poor to do anything but stare dreamily at it on our screensaver.  But what do you expect- Super-sized McSeats and Big Gulp cup holders? 
f.       Cool fact – why, you ask, is a sports car named after that dork in middle school you used to make do your Algebra homework?  "Apollo" is named after the Greek god and the car is the brainchild of former Audi motorsports chief, Roland Gumpert.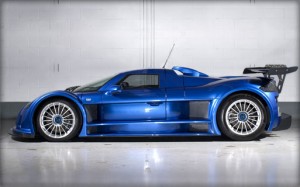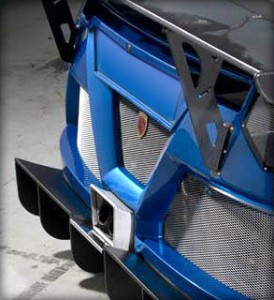 g.       Another cool fact – The Apollo has a massive rear diffuser and two enormous venturis that extend the length of the car, generating 3,300 pounds of downforce at 200mph. Gumpert claims it could drive upside-down in a tunnel if driven at sufficiently high speeds (over 190 mph), though this remains to be tested.
i.     The Gumpert Apollo is currently offered for sale through Arizona's Evolution Motorsports.  The Apollo is shipped as a kit from its German factory to Evolution, which assembles the street legal race car to conform to US regulations.