Lamborghini um… yes please!
a.       Ferruccio Lamborghini was obsessed with bulls (hence the raging bull emblem) and his cars were often named for this obsession.  The Murcielago (Hot! Hot! Hot! LP640 – 6.5L V12 making 640hp and launch control capable of lighting up all four wheels) is named for the bull who survived 28 sword strokes in an 1879 bullfight in Cordoba before Matador El Lagartijo spared his life.  Reventon was named after the famous bull that took the life of Mexican torero Felix Guzman.  The Urraco and the Jalpa are both a breed of bull.  The Espada is Spanish for sword.  The Jarama refers to the historic bullfighting region in Spain.  The Islero was named for the bull that killed Matador Manolete in 1947.  The 2008 concept car, Estoque, is named after the estoc (sword) used to kill the bull in contest. 
b.       Lamborghini wasn't always involved in automobiles.  He started out manufacturing tractors and other agricultural equipment, then opened an oil heater factory and later an air conditioning company.  His success allowed him to purchase and modify cars, including Fiats, Alfa Romeos, Lancias, a Mercedes-Benz 300L, Jaguar E-type, two Maserati 3500GTs, and eventually numerous Ferraris, but he never felt they provided all that a performance car should, commenting the Maseratis were heavy and slow, the Ferraris were too noisy, lacked any luxury, and had inferior clutches.  After Ferruccio modified a Ferrari 250GT to outperformed the stock model, he told his close friend Enzo Ferrari the car should be better.  Enzo basically gave him the finger and told him he was a tractor builder, not a car builder.  Ferruccio decided to prove him wrong and started building the Lambo line of sports cars. 
c.        Miura – 3.5L-4L making 280-350 hp (different models).  It's often cited that the term "supercar" was coined by journalist L.K.J. Setright when he reviewed the Miura for Car Life magazine in May 1966, but that word had actually been used for at least a year in English "supercar" publications before the Miura review.  Even so, the Ferrari Daytona outperformed the Miura…  The prototype was originally called the P400S but it went into production as the Miura; named for the most savage breed of Bull bred by Don Eduardo Miura, owner of a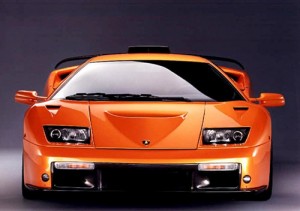 famous bull range in Seville.
d.       Cool fact – The Shah of Iran owned a Miura which was confiscated by the Ayatollahs after the revolution in 1979.  It was sold to Dubai and later purchased by Nicolas Cage for $490k, the most expensive Miura ever sold.  Frank Sinatra also owned an orange Miura, with matching orange leather and shag carpeting.
e.       Diablo – 5.7L engine making 492 hp; 0-60 in 4.1 seconds and a maximum speed of 202 mph.  The Diablo was named for a famous bull fight in 1869 between El Chicorro and the Duke of Veragua's raging bull.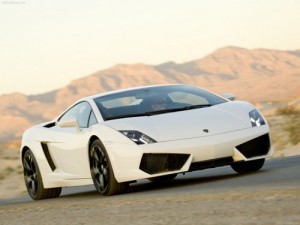 f.         Gallardo LP560-4 – The most popular model of Lambo, it was powerful but not very adept even given the AWD.  In 2009, major renovations include a larger 5.2L aluminum V10 with 552 bhp, quicker shifting "E-gear" tranny, new angular body work, launch control, and a successful weight loss plan helped it to beat the GTR, Ferrari F430 Scuderia, and the Murcielago.  Gallardo is named for one of five famous castles of the fighting bull breed.
g.       Countach – $150,000+ First produced in the 1970's, this car is inspired by F1 technology.  A powerful 4L V12 mid-engine DOHC (I'll excuse the 6 Weber 45 DCOE carbs) making 375 bhp and a top speed just under 200 mph. 
h.       Another cool fact – the Countach is the first Lambo to break tradition by not being named for a bull.  Countach is a word used by men Piedmontese men (region in northern Italy) when they spot a particulary hot woman that translates to something like "I'd like to plant a carrot in her garden."  The Silhouette and LM002 SUV are other exceptions.
i.         Lambo sold off his interests in the late 1970's and moved to Umbria to pursue winemaking.  His wines are sought out by winemakers all over the world.