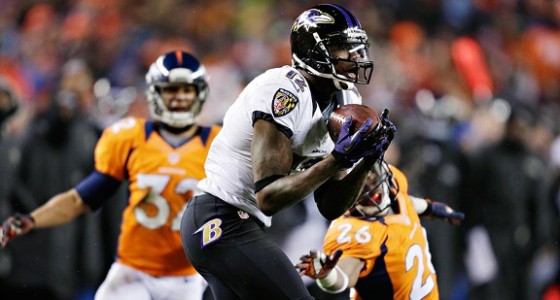 So my team isn't in it anymore.  Not that they ever seemed to be in "it" (the season) in the first place.  That doesn't stop me from watching what ended up being two really interesting playoff games yesterday.  Just when the Broncos seemed to have it in the bag, they turned the ball over to Baltimore under the two minute warning.  Joe Flacco threw an incomplete, they rushed for a few yards, and then when it was close to putting a fork in it, Flacco prayed on a 70 yard Hail Mary shot that somehow flew on the wings of an angel  (Jacoby Jones) into the endzone; the extra point tied it up with 31 seconds left.  Almost two overtime quarters later and Ravens kicker Justin Tucker's 47 yard field goal kept Baltimore's season going.
Then San Fran and Green Bay played an offensive game.  The 49er's racked up 579 total yards with QB Colin Kaepernick passing for 263 and running (some QB's can still do that…) for a record-setting 181 yards himself.  Just when I think football is exciting- especially when you're not partial to any team playing- the Atlanta Falcons are making the Seattle Seahawks look pigeon toed right now, outscoring them 27-7 in the third so far.  I guess we know who the bird of prey is in this game…
UPDATE: Looks like the Falcons got caught holding their sandwich too liberally.  After a huge comeback, the Seahawks just swooped in to score with ironically, 31 seconds left.  Score- 28 to 27, Seahawks…  Talk about a come from behind team!
2x: OMG, 13 seconds and the Falcons nail a field goal (after missing the first attempt during a time out call).  Seattle gets one last attempt and the moon ball is intercepted in the Seahawk's endzone by Atlanta.  Another incredible game!