I started celebrating New Years Eve the day before, stopping by Capone's for a promising lineup of Christmas and Winter Ales. I ordered a four top of Jenlain Noel, Corsendonk Christmas, Summit Porter, and Tsjeeses.
Not a bad selection if I don't say! The Jenlain Noel has a spicy, slightly bitter citrus zest blended with a dark fruit and roasty flavor. It is a very drinkable beer with the cherry and plum flavors balancing the dryness. The Corsendonk Christmas has a huge malt profile with a molasses sweetness paired to a spice, possibly anise (black licorice like), and ginger. The carbonation can be a little overwhelming initially but does subside. The Summit Porter is a deeply roasted coffee, oatmeal, and chocolate smell and taste. It can be a little acrid, such as burnt coffee, but I am also a Starbucks addict, so I savor a dark coffee.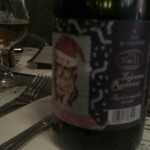 Oh sweet baby Tsjeeses!!! I'm not going to waste time trying to blog about religion and beer and the significance of this beer's moniker, but to spread the kind word that this is one awesome beer, if you find the correctly adorned label. While all the Struise Tsjeeses beers appear to have some form of gangly looking prophet on them, our friends at the "anti-munchies" Alcohol and Tobacco Trade Bureau assume the bloodshot eyes with dilated pupils and the wafting smoke from the character's mouth, nose, and ears presented the image of being under the influence, especially from marijuana. While the bottles still carry the original label in Europe, American bottles just conceal the "issue" with a pair of sunglasses.
At a recent tasting however, our group of experienced beer drinkers decided the label was not the only modification. We sampled two #10 Tsjeeses, one with the European label and one with the American label. The European Tsjeeses pours a bronzy apricot color with good head retention and a nice lacing.  The American labeled Tsjeeses poured slightly thinner and didn't have the complexity or balance that the European label had. The 10% alcohol is not entirely masked but the enticing blend of cane sugar, grapes, apricot, and a little citrus produces a truly drinkable Christmas beer. Its American counterpart left a thin coating in the mouth and a slightly more bitterness. There is also the Tsjeeses Reserva, the same beer aged for 6 months in oak barrels, giving it just one more dimension. The whole lineup is definitely worth trying side by side to notice the differences.