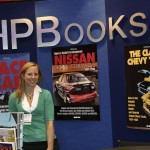 My book "How to Build a Performance Nissan Sport Compact Car" has just been released and you should own it so I can support my "two tracks a day" habit.  It is comprehensive guide to modifying the 1991 – 2006 Nissan Sentra, NX, and 200sx and Infiniti G20 for street and racing performance. The book includes chapters on models and engines, engine theory, bolt-on performance components, cylinder heads and bottom end modifications, forced induction, engine swaps, brakes, suspension, wheels and tires, cosmetic and aerodynamics, and safety.
Even if you don't own these cars, this book provides a basic understanding of how non-rotary engines work, and a much more thorough explanation of engine components and design such as how rod to stroke ratios affect piston speeds and power range, as well as an excellent turbocharging section, including many formulas to help calculate estimated horsepower and the size fuel system necessary to support that power.
I was formerly the Tech Editor and a Writer for Nissan Performance Mag for 5 years and have built numerous Nissan and Infiniti engines including my 473 wheel horsepower Sentra.  The books make great gifts as well, and one friend said it is very enjoyable bathroom reading, so pick up your copy today!