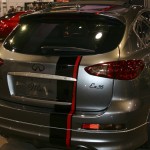 The 2008 SEMA show was held November 4th-7th at the Las Vegas Convention Center. In case you were just born yesterday, the SEMA show is the world's largest professional trade show for the racing and aftermarket parts industry. It is the biggest, baddest, and craziest car show there is in existence. The first week of each November over a hundred thousand car industry leaders descend into the City of Sin for 4 days of automotive heaven.
Manufacturers, buyers, and media fill in over two million square feet of exhibits. Unfortunately it is also industry only, so unless you are part of the industry or a celebrity you are not going to have an easy time getting in to see this spectacle. Thus I feel it is my duty to share some of this experience with anybody who has 5 minutes at work and is bored enough to be reading this. This was a particularly special SEMA for me since my book was finally released there, after three long years of writing, editing, and falling asleep in front of the computer.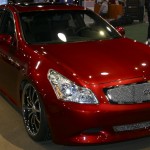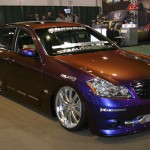 I'm also on staff for MotoIQ, the brainchild of the folks behind NPM, Nissan Performance Magazine, an online magazine devoted to good tech info, project cars, event coverage, and new products for Nissan/Infiniti enthusiasts. Looking to expand from NPM's 100,000 monthly readers to cover all cars and eventually anything with a motor (bar stool racing anyone?), MotoIQ retained most of it's loyal staff with our motor oil IV drips and picked up other well known automotive writers and racers. A long, drawn out lawsuit kept us from launching 2 years ago as was originally the plan, but it has since been settled and this year at SEMA, we needed to regroup and see what the current trends are before launching this endeavor. We were also curious how the economy was going to affect the SEMA show, which is often a greater production than any casino performance.
SEMA to the autophile is like a porn convention to a teenage boy. Most guys walk around drooling at the cars or whatever barely covered model has plopped on top of them (um… the cars, that is). A few years ago, SEMA began enforcing a dress code on the models after one company outfitted their booth models in only (lead based?) body paint! Alas, public nudity is not only accepted in "Skin City", its encouraged- it might even be law! According to the models outfits this year, the dress code consists of pretty much anything that covers as much as a pasty or two and silly string can.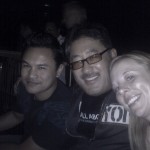 What you might not realize about SEMA is the majority of real business gets taken care of with a cocktail in each hand, yelling over the thumping bass at a club filled with half naked everything, and occasionally buying lap dances for potential business clients from "clothing-challenged dancers" with limited comprehension of the English language, flown in specifically to satisfy the demand. While coffee is the drink of choice during the day, Red Bull and Vodkas get slammed back at night in the futile attempt to stay somewhat coherent while strobe lights blind you and [insert celebrity DJ here] blasts incoherent music at about a million decibels. Deaf as we end up, the business still gets taken care of sometimes via hand gestures or just the exchange of a business card. Drinking with industry bigwigs is the only way to make connections.
I usually can't tolerate four days of the show- actually it's the nights that screw me up- so I flew in Wednesday night and was picked up by famous tech writers Mike "Former Nissan Engineer" Kojima and John "Honda Challenge" McNulty. We prepared for a night of drinking with the proverbial double-double and fries at In & Out and then headed to our digs for an hour so we could be considered fashionably late. We threw down party invites on the floor and settled on going to the Scion party at Planet Hollywood Hotel. The line was long and full of other partakers whose names were also on the list, but we finally made it to the inner sanctum of Open Bar. Parties with free drinks first tend to be the most exciting and for my male counterparts, are usually more female friendly- or at least have a few VERY friendly females. Water wasn't the easiest thing to come by at the end of the night so I drank the closest thing to it- a Bud Light. Desperate times call for desperate measures… After being up almost 24 hours straight, I left the club through the door under the EXIT sign. I passed a horde of guys peeing into the trough and made it all the way to the stall before realizing the exit I had somehow walked into was really the men's bathroom. Either this must happen often or I was the most sober person there- all those guys and not a single raised eyebrow.
Thursday morning began (3 hours after Wednesday ended) with bloodshot eyes and a fuzzy sweater on my teeth. We had an early morning business meeting at the Hilton's gastronomical buffet before hitting the show. After a few gallons of coffee, my eyes didn't require a toothpick to be pried open anymore.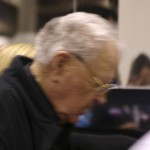 SEMA is gigantic, especially the trek from the buffet to the media center where I still had to go to pick up my badge. There were few scheduled events I really wanted to get to, but the one I really wanted to hit was the Carroll Shelby and Guy Fieri event at the Roush Performance booth, arriving halfway through the sautéing of Guy's Snakebite shrimp recipe. It was not the ideal spot for photos, but did end up being the front of the line for autographs- not Carroll Shelby's but Guy's. I've watched Guy deep-fry hamburgers on one of those hunger-inducing food network shows so I took the extra 10 minutes for an autographed poster. I'll have to settle for just having a racing legend walk 2 feet away from me.
Thursday night we started our partying, err… networking soon after the show. Us MotoIQ editors hardly ever turn down free food and drink. We had just enough time to freshen up and get ready for the real SEMA afterparty chaos. We headed to the ProMotion party at Club Asia, once again Planet Hollywood Hotel. In years past, this was the party to go to and for the most part had an uncharacteristically high female to male ratio of somewhere around 1:20. This year the ratio was closer to a military combat unit and the party had about as much excitement as professional scrapbooking. After an hour or two watching the all male crowd freak each other on the dance floor while slurping on overpriced cocktails, our crew departed the club, deciding some late night Kung Pao Delight was just what we needed to force us into a carb-induced coma.
Friday is always a much more relaxed day at SEMA. Not to say you don't have to fly through the convention center trying to accomplish all that you haven't been able to get done the previous days at the show, but by its end, the displays start looking shoddy, the manufacturers muster whatever energy they have left to show you their products, and the models look dazed and confused. It's definitely not the best day to take pictures. I visited some of the companies I deal with often and a few others to promote my book. I spent some time with my publisher and walked the halls I don't find very useful like the ones filled with rip-off, knock-off companies. Since the trend towards environmentally friendly and fuel economical transportation is popular right now, Mike and I visited the Ruckus booth. These are like scooters on steroids. They can be custom built with carbon fiber, upgraded engines, sound systems, and have more aftermarket support than many four wheeled cars on the road today.
Friday night also tends to be a little slow. Those who aren't packing up to try to fly out that night are in some sort of subconscious stupor. We headed to the Hard Rock for some drinks and then met up with some local friends for dinner before passing out.
If this article teaches you nothing else about SEMA, at least learn how to keep your DUI-looking mug shot from circulating the internet. If a camera (or cell phone) is pointed at your inebriated face, duck behind the nearest import model- chances are nobody will even spot you in the picture! The other tip is to not drink too much and keep your wits about you. Deals are made and broken here and many a deal has been skunked, and more that one racer has lost sponsorship, because of stupid drunkenness- and perhaps groping of the wrong execs wife! Here's to another SEMA and the heady mix of debauchery, business, and cars.  More pics: